Losar Tibetan New Year Celebration for Members – Online
With Pema Khandro
February 22, 2023
Happy Losar ~ Year of the Water Rabbit!
All Members of Ngakpa International and the Buddhist Studies Institute are welcomed to join us for our annual Tibetan Lunar New Year Celebration – Online!
Registration is limited to members only. To find out more about member levels and benefits, or to become a member, visit Become a Member.
Email Info@BuddhistStudiesInstitute.org with any questions.
Leader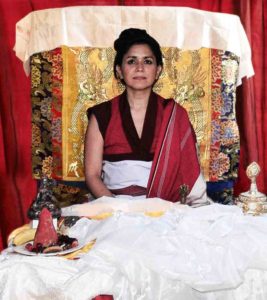 Pema Khandro
Pema Khandro is an internationally renowned teacher and scholar of Buddhist philosophy. Ordained in the Nyingma lineage, enthroned as a tulku, and trained as an academic, her teachings celebrate the dynamic coalescence of tradition and the modern context. She is the founder of Ngakpa International and its three projects: The Buddhist Studies Institute, Dakini Mountain and the Yogic Medicine Institute. In her work as a Buddhist teacher she is an authorized Lama and lineage holder of the Nyingma and Kagyu traditions and was enthroned to carry on the lineage of her predecessor, the first Pema Khandro, an early twentieth century…
Learn more about Pema Khandro