Annual Dzogchen Retreat, Online with Pema Khandro
With Pema Khandro
August 19 - 21, 2022
Finding Comfort and Ease
The Annual Dzogchen Meditation Retreat
Online with Pema Khandro
August 19-21st, 2022
A time to contemplate expansive peace and innermost presence, this retreat will focus on cultivating deep rest through advanced relaxation practice and study of Dzogchen teachings and meditation. This is an opportunity to connect with the beautiful poetry of esoteric Buddhism at its best through vantage point of Longchenpa. The Trilogy of Finding Comfort and Ease was written by Longchenpa, the great fourteenth century Dzogchen master. These instructions lay out the path from its foundations to the experience of deep contemplative awareness and experience beyond grasping. It includes guidance on the stages of meditation and the ways to unravel and find rest in the nature of mind. This is a path of encountering innate wisdom through letting go in its sweetest sense, the letting go of effort and tension to rediscover an uncontrived presence. Join Lama and Dzogchen scholar, Pema Khandro in this three day immersion in Longchenpa's works along side guided practice of Dzogchen semdzin, precious practices for holding on to the nature of mind which have been taught annually at this retreat for the last decade.  The annual Dzogchen retreat is usually held in person, but this year due to Covid-19 concerns, is being made available online in an accessible short format of morning sessions.
"Unconfined, beyond all partiality,
Not trammeled in the snare of tenets,
Free from the discursive mind,
Non-dual, perfect, great equality,
The wisdom of the Conquerors,
The vast expanse beyond extremes—
This is what practitioners should fully recognize."
Longchenpa. "Finding Comfort and Ease In Meditation."
Recommended pre-requisites for this retreat are Vajrayana Training, Ngondro and Buddhist meditation experience, however, registration is open to all.
---
Tuition and Financial Aid Considerations
General Tuition $180
Late Tuition (after 8/12) $210
50% Discount for Snow Lion Members or FREE with Sustainer Membership, All Access Pass
*Members can Apply Member Discount Codes at Checkout
The course costs are set at a minimum fee already, with financial aid built into all tuition rates. Because we are a non-profit organization, the costs of all activities and overhead of our organization must be covered by the participants of the courses or donations and all courses are offered at below cost. For those who are experiencing genuine financial hardship and wish to enroll in the course, Financial Aid applications are available. (Applications must be received in advance. There are two Financial Aid Scholarships available for this program.) Financial Aid Scholarships receive a 50% discount on tuition. 
Submit Financial Aid Scholarship Application Here (link)
For Ordained Monastics: Submit the Monastic Scholarship Application Here (link)
Leader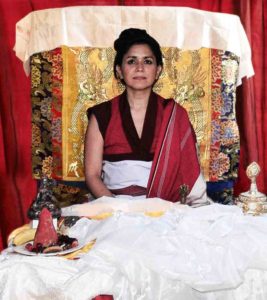 Pema Khandro
Pema Khandro is an internationally renowned teacher and scholar of Buddhist philosophy. Ordained in the Nyingma lineage, enthroned as a tulku, and trained as an academic, her teachings celebrate the dynamic coalescence of tradition and the modern context. She is the founder of Ngakpa International and its three projects: The Buddhist Studies Institute, Dakini Mountain and the Yogic Medicine Institute. In her work as a Buddhist teacher she is an authorized Lama and lineage holder of the Nyingma and Kagyu traditions and was enthroned to carry on the lineage of her predecessor, the first Pema Khandro, an early twentieth century…
Learn more about Pema Khandro